As a new mom, it has been a journey trying to find how to make sure my baby is comfortable, warm, and safe for the night, or at least for the few hours she sleeps at a time!  Especially with the colder weather coming, I was worried about how to keep her warm enough without the use of a blanket.  Baby Deedee to the rescue!  When the Baby Deedee Sleep Nest Tee arrived, I immediately loved how soft it was, inside and out.  The duvet material is 100% quilted cotton jersey, making it extremely soft and easy to wash.  My baby always houdinied her arms out of any swaddler, so I liked that the Sleep Nest Tee allowed her arms to be free.  It snaps over the shoulder so it is easy to get squirmy infants in to it.  I think my favorite part about it has to be the fact that it zips from the top down, so late night diaper changes were a breeze!  Unzipping her from the bottom allowed me to leave her in the Sleep Nest Tee, change her diaper, and zip her feet back in without having to disturb her like I used to when she was swaddled.  She also seemed to enjoy it more than other options we had tried, and ended up sleeping sounder.  It kept her warm on the cold nights, without making her overheat.  I am also excited that I can get another one as she grows since they have sizes for up to 36 months, giving me piece of mind when she starts sleeping in her own room.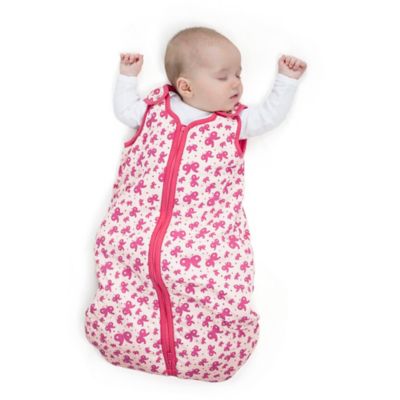 They have a full line of different sleep options, including quilts, sleepsies, sheets, and pillows.  Their stroller blanket is also another product I recommend.  Again made with the quilted cotton, it is soft, warm, and cushioned.  Because it looks like a regular blanket, I can imagine my daughter taking it with her as she gets older for naps around the house too.
It takes a mom to know what a baby needs to be comfortable and safe, especially when it comes to sleeping, and that is apparent in the Baby Deedee line, designed by a mom for her child.  I feel very secure in their products to provide a good night's sleep for my baby, as well as myself since I can worry less about her while she is sleeping in the Sleep Nest Tee.
Kim Alsumiri is a Senior Writer who focuses on baby products and travel. A proud California native, she has a deep understanding of the needs of families with young children. With over 10 years of experience in the writing industry, Kim has a passion for finding and sharing the best products and experiences for parents and their little ones. She has also developed a strong interest in social issues related to parenting and child-rearing. As a mother of three young children, Kim knows firsthand the joys and challenges of raising a family. Her personal experience and love for travel allow her to offer valuable insights to her readers on the best places to go and things to do with kids in tow.