Staples has some great products for a home office. I know there are many of you out there who love office supplies just like me. There are some great products I just discovered that I really liked.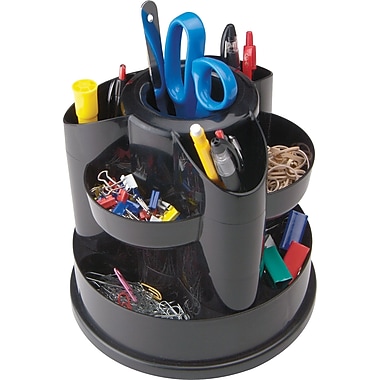 The Staples 10-compartment rotating desk organizer is a great way to organize all those supplies lying around. It has 10 compartments so there is room for all your paper clips, rubber bands, pens and more. It spins so it is easy to access all areas and it is pretty sturdy and looks pretty good in black plastic.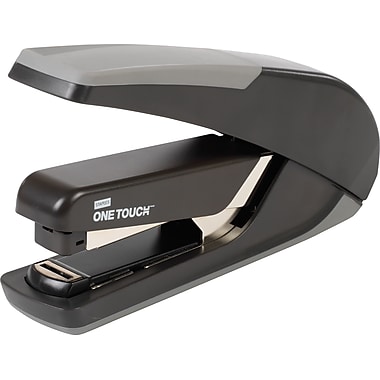 Staples One-Touch Plus Desktop Flat Stack Full Strip Stapler is an excellent stapler for heavy-duty projects. It can staple up to 30 pages and is very easy to use with its soft rubber grip and non-skid base. It also keeps the pages neatly stacked for a more professional appearing document. It uses regular staples and loads with the touch of a button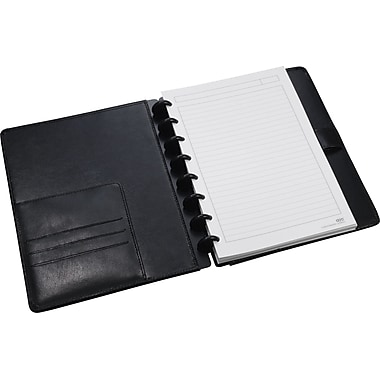 Staples Arc junior size customizable leather notebook system measuring approximately 7″ by 9″ is the perfect size to carry around. It comes in a couple of colors and is very pleasing to the eye. It has a pen holder and interior pocket with business card slots. My favorite part is that the pages can be repositioned and they are made of premium heavyweight paper.
I'm off to go organize my desk!
is a Senior Writer with a focus on products for moms and moms on the go. Despite her background in speech therapy and communication, Margherita has developed a strong understanding of what mothers are looking for when it comes to products and services. As a proud Sicilian and mother of one, Margherita knows firsthand the demands and joys of motherhood. She's always on the lookout for new and innovative products that can make a mom's life easier and more enjoyable. Margherita loves travel writing and covering everything New York City has to offer. She enjoys exploring new destinations and cultures and bringing her readers along on her journeys. With a unique perspective and valuable insights, Margherita's writing is sure to inspire and inform moms everywhere.